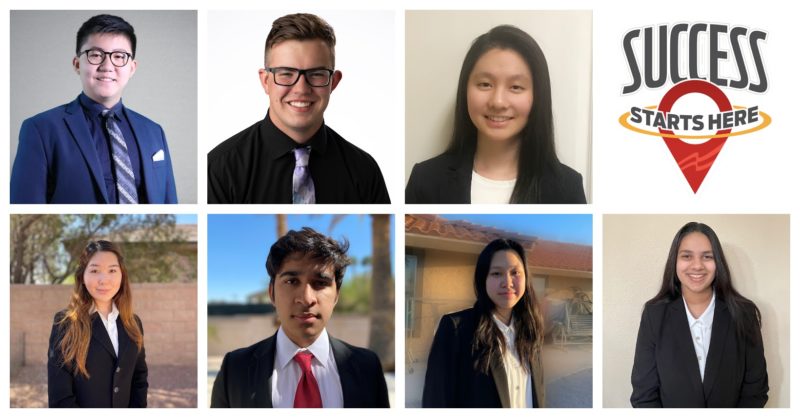 Nevada FBLA Officers are elected by their peers at the State Leadership Conference and represent Nevada's membership. The State Officer team develops a program of work aligned to the strategic goals of Nevada FBLA. Throughout the year the team interacts with the membership to implement and enhance Nevada FBLA programs.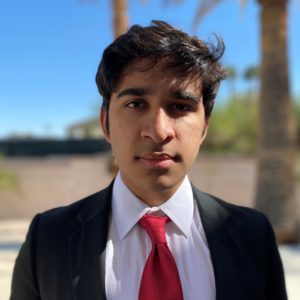 Abhay Mahajan
Vice President of Membership
Vice President of Membership
Hello, I am Abhay Mahajan and I am going to be a senior at Ed. W. Clark High School. I have been an FBLA member ever since my freshman year and was the president of Clark FBLA before being elected to the position of the Nevada Vice President of Membership. I have received awards at SBLC over the course of all three years of FBLA, but as of the most recent SBLC, I have placed first in Impromptu Speaking and Healthcare Administration and third in Entrepreneurship. I am still a bit uncertain on what college I wish to attend, but Standford seems like a good option because it is relatively close to home. I hope to obtain a medical degree so that I can become a doctor and run a business of my own. During my time as the Vice President of Membership, I hope to create more ML chapters while cooperating with the regional Vice Presidents to establish more chapters in Nevada. I hope to also increase the communication between the local chapters. In terms of my current career goal, when I become an adult, I hope to have a medical business with locations spanning all across vegas. A testimonial that I could give for FBLA is that "FBLA provides students with the opportunities to lead and work together that are needed in order to succeed during adulthood".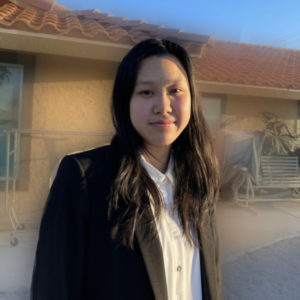 Haylie Li
Vice President of Public Relations
Vice President of Public Relations
Haylie Li, an upcoming senior at Ed W. Clark High School, is proud to serve as Nevada FBLA's 2021-2022 Vice President of Public Relations. She has been in FBLA since her sophomore year of high school, and this club has allowed her to go out of her comfort zone and explore the world of business. Her experience as her home club's treasurer for the 2020-2021 term can be used to help guide her in this position. At the State Business Leadership Conference, she has placed 1st in Hospitality and Event Management two years in a row, 2nd in Entrepreneurship, 3rd in Economics, and 6st in Business Communications. She has also achieved the Future level of the Business Achievement Awards and the Community level for the Community Service Awards.
Outside of FBLA, Haylie is the manager for Clark's tennis team, Vice President for Key Club, and Secretary for UNICEF. In her free time, she likes to watch k-dramas, play with her dog, and explore the outdoors. In the near future, Haylie hopes to attend a top university studying something related to the business field. Utilizing the experiences that she has had in FBLA thus far, Haylie is excited to work with the new state officer team, build connections with members within FBLA that can last a lifetime, and see this organization grow to new heights.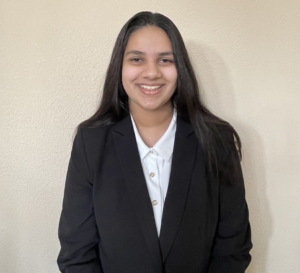 Sanjana Dixit
Vice President of Service
Vice President of Service
Hey! I'm Sanjana Dixit, and I am the Nevada FBLA VP of Service. I currently attend Clark High School in the AMSAT program, and I am a high school sophomore. I have been in FBLA for two years, and it was actually the first organization I had joined in high school! As a member, for 2021 SBLC, I placed 1st in Sports and Entertainment Management, 1st in Hospitality and Event Management, and 4th in Securities and Investments. Last year, I placed 3rd, 4th, and 5th in my events. For NLC, I am competing in Sports and Entertainment Management, and I hope to place to represent Nevada FBLA! I have so many dream schools, but Duke University or University of Pennsylvania are definitely two of my big dream schools. I would definitely try to pursue a business, economics, or sports management degree. My career goal is to make a lasting impact on my community while also maintaining my own happiness in a hopeful business career. Being an FBLA member has changed my life because of the friends I have made and the skills I have learned, and I cannot wait to continue this journey on the State Office team!